ELECTRIC ENERGY TRANSMISSION
The Company holds the leading position on this market, and its market share, according to the 2014 end-year results, was 83.0% and 83.9%, taking into account the subsidiary JSC Yargorelektroset.
The calculation of electricity transmission services is carried out according to the same rates in each region regardless of which power grid company network the customer is connected to. Settlements between power grid companies are made according to individual rates, established for mutual settlements between pairs of power grid companies.
Customers perform payment transactions with IDGC of Centre for electricity transmission services provided based on uniform (boiler) tariffs. The company, in turn, makes payments for electric power transmission services to other territorial grid companies (TGC) in the region on the basis of individual tariffs.
The scope of power transmission
Indicator
Measuring units
2012
2013
2014
Deviation 2014/2013
kWh bn
%
Power supply to the grid
kWh bn
64.0
63.6
62.8
—0.8
—1.3
Net electricity supply (within the balance participation of the Company's branches)
kWh bn
57.9
57.8
57.0
—0.8
—1.4
Power losses
kWh bn
6.10
5.83
5.76
—0.07
—1.2
Amount of power transmission services providedTaking into account electric energy sold over 2013–2014 when the Company was fulfilling the functions of the last resort supplier.
kWh bn
55.1
55.2
54.4
—0.8
—1.4
According to the end-year results in 2014, the amount of power transmission services decreased by RUB 0.8bn (1.4%) compared to 2013. The main reasons for the reduction in the amount of services provided is the termination of the last mile contracts in 2014, as well as reduction of energy consumption by the following customers.
The major share of IDGC of Centre grid electricity supplies goes through 110 kV networks (64.5% of the total net electricity supply). Industrial enterprises account for 42.1% and TGC account for 43.6% of the total amount of 110 kV net electricity supply.
Electric energy supply structure in 2014 by voltage level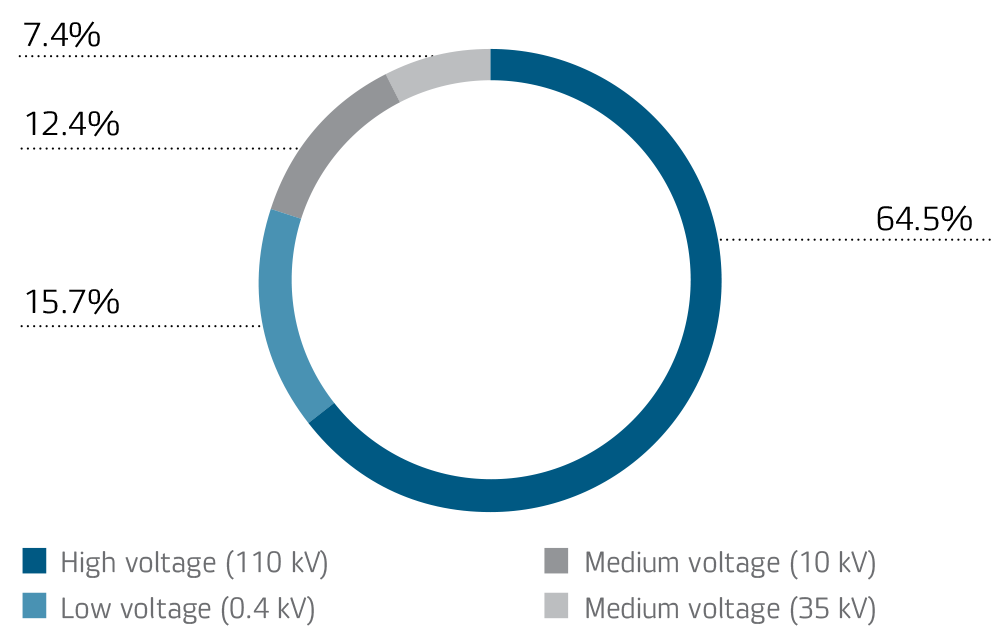 The largest high voltage (HV) enterprises belong to the metallurgical industry

| | Consumption in 2014, kWh bn | Share of the total volume of productive electric energy supply from the grid of IDGC of Centre, % |
| --- | --- | --- |
| Oskol Electrometallurgical Works | 3.4 | 6.0 |
| Novolipetsk Metallurgical Works | 3.0 | 5.3 |
| Mikhailovsky Mining and Metal Works | 2.4 | 4.2 |
Compared with 2013, there has been a decrease in high voltage electric power consumption due to exclusion from the balance sheet of the amount of electric energy transmitted to the last mile facilities: from 37,629.8mln kWh in 2013 to 36,831.5mln kWh in 2014. Moreover, this is due to reduced production by the following customers:
Baltnefteprovod LLC, in the Yaroslavl Region, with a 95.6mln kWh (26.8%) decrease in power consumption.
Gazpromenergo LLC, in the Tambov region, with a 75.5mln kWh (83.0%) decrease in power consumption.
Gazprom Transgaz Moscow LLC, in the Lipetsk Region, with a 72.1mln kWh (85.8%) decrease in power consumption.
Among customer categories, the most part of electric energy is traditionally supplied to territorial grid companies (33.9%), industrial customers (32.4%), the general population and equivalent customer groups (11.2%).
See the Annual Report for details on key customers
There was an increase in power consumption by the general population in 2014 from 6,072.9mln kWh in 2013 to 6,399.5mln kWh.
In the industrial consumers group, consumption has decreased due to shifting away from the last mile structure: from 19,971.8mln kWh in 2013 to 19,491.5mln kWh in 2014. This reduction is also due to a reduction in production by a number of large companies.
Electric energy consumption from IDGC of Centre grid by the ten largest customers in 2014
No.
Branch name
Customer name
Consumed amount, kWh mln
Share in the net supply, %
Net electric energy supply in 2014
57,045.0
100.0
1
Belgorodenergo
OJSC Oskol Electrometallurgical Works
3,436.9
6.0
2
Lipetskenergo
OJSC Novolipetsk Metallurgical Works
3,005.3
5.3
3
Kurskenergo
KMA Electro LLC (OJSC Mikhailovsky Mining and Metal Works)
2,404.1
4.2
4
Voronezhenergo
SUE Voronezh Municipal Power Grid
1,480.9
2.6
5
Bryanskenergo
Bryanskoblelectro LLC
1,411.9
2.5
6
Belgorodenergo
OJSC Stoilensky Mining and Metal Works
1,260.2
2.2
7
Yarenergo
OJSC Yaroslavl City Electrical Grid
1,227.8
2.2
8
Lipetskenergo
OJSC Lipetsk City Power Company
1,044.4
1.8
9
Voronezhenergo
South-Eastern Railways (branch of OJSC RZD)
999.7
1.8
10
Tverenergo
SUE Tvergorelektro
783.4
1.4
Total for the 10 largest customers
17,054.6
29.9
Financial result
Customers make payments to IDGC of Centre for rendered electricity transmission services under uniform ("joint operation") tariffs. The Company, in turn, makes payment for services for the transmission of electric energy to other TGC of a region region under individual tariffs.
Due to IDGC of Centre's fulfilling the functions of the last resort supplier in 2013–2014, and due to reflection of electric enegry transmission revenue as part of the electric energy sales revenue in the books, to compare the Company revenues received in 2013–2014 for electricity transmission services, data should be brought to comparable terms. The 0.9% increase in revenue from electric energy transmission services in 2014 was mainly due to the growth of tariffs in the reported year.
Electric energy transmission revenues, RUB bn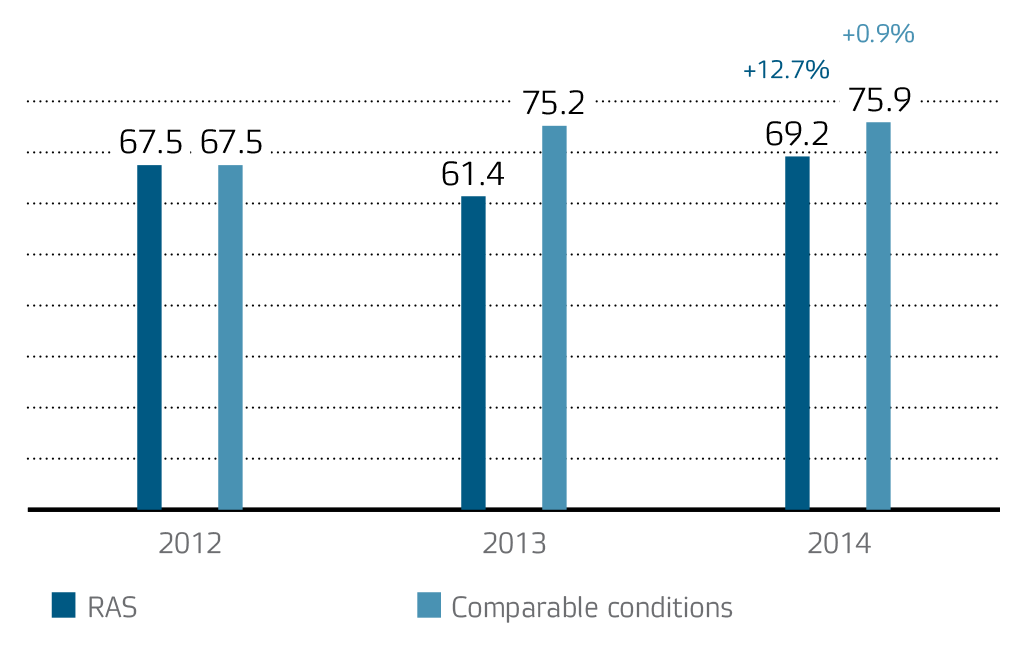 Since January 06, 2014, there has been a change in the boiler scheme on the territory of the Bryansk region in relation to payments between IDGC of Centre, the last resort supplier TEK Energo LLC, and the territorial grid organisation of Bryanskoblelektro LLC (boiler from below). Therefore, identification of the market share based on the revenue from IDGC of Centre electric energy transmission services and costs of settlements with utilities organisation (TCG) is incorrect. The information under comparable conditions is given below:
Revenue from power transmission, RUB bn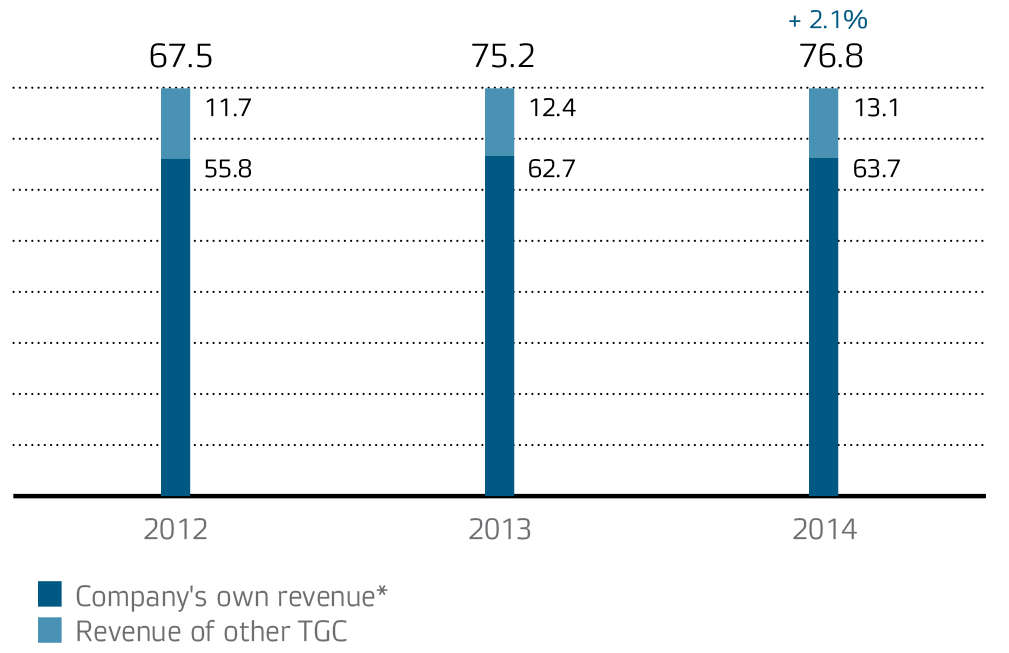 * This also includes the costs of electric energy transmission services provided by JSC FGC UES, as well as the cost of purchasing electricity for compensation of power losses in the networks of the Company.
Factors which caused reduction of IDGC of Centre's own revenue in 2014:
Reduction in the amount of net electric energy supply among other things due to last mile customers switching to direct settlements with JSC FGC UES.
Reduction of the cross-subsidisation charge for last mile customers in the Belgorodenergo, Kurskenergo, Lipetskenergo and Tambovenergo branches, as well as limited growth in the electric energy transmission tariff for other customers who do not compensate the full amount of cross-subsidies.
Furthermore, the mean electric energy transmission tariff growth rate is 7% slower than that of the cost of settlements with TGCs.
Production cost of electricity transfer services
In 2014, the production cost of electricity transfer (in comparable conditions) amounted to RUB 65.8bn, which is a 4% increase in case of the production cost in 2013.
Dynamics of the production cost of electricity transfer services, RUB bn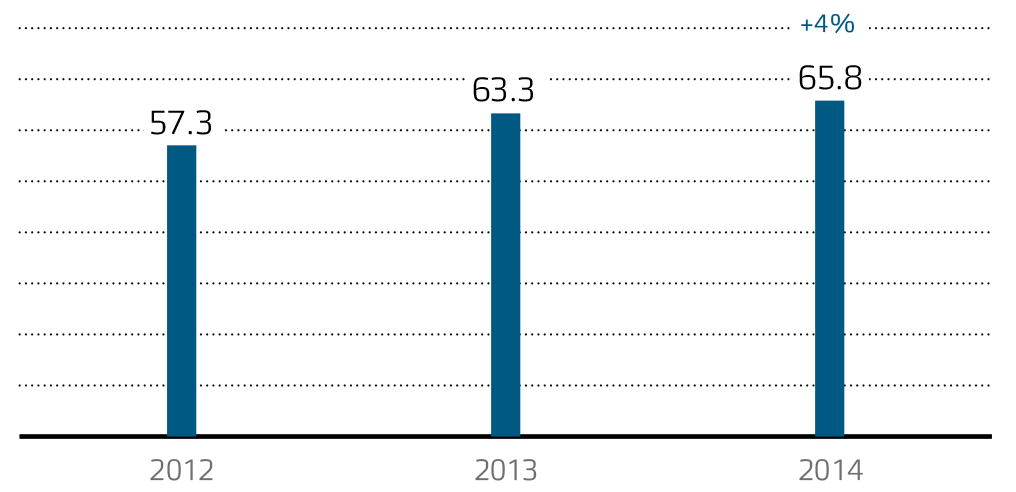 The growth factors of the production costs of the main business type were as follows:
+10.8%, increase of depreciation allowance due to commissioning of fixed assets in 2014 in the framework of the investment programme;
+9.7%, increase of personnel costs due to salary indexation;
+4.2%, increase of the electricity transfer service tariff in the United National Energy System from the side of JSC FGC UES.
Net profit
According to the end-year results, in 2014 the Company's net profit from electric energy transmission services has increased by RUB 3.8bn, and has reached RUB 2.8bn. The key factors, which influenced the growth of electric energy transmission net profit, are as follows:
RUB 722.9mln (1.0%) increase of revenues for electric energy transmission services.
RUB 5,617.5mln (59.4%) reduction in the negative balance of other income and expenses due to creation of allowances for doubtful accounts.
The dynamics of net profit from electric energy transmission services over 2012–2014, RUB bn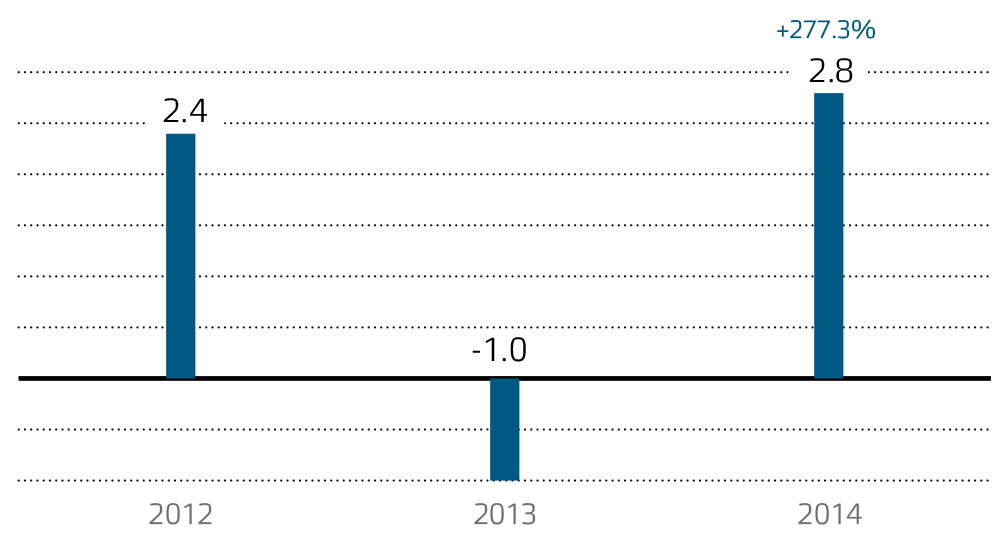 Reduction of Energy Losses
The Company is implementing a set of measures aimed at optimisation (reduction) of electric energy losses as one of its business priorities.
Actual losses of electric energy in grids of IDGC of Centre following the results of 2014 decreased in comparison with the last year by 1.2% and amounted to 5.76bn kWh.
In relation to the amount of electricity that was supplied to the grid by IDGC of Centre, in 2014 the losses amounted to 9.17%, and in 2013, 9.16%. Such dynamics is due to a reduction of the output to the grid, which was largely due to the exclusion of 'the last mile' facilities from the electricity balance in the amount of 0.7bn kWh. In conditions that would be comparable with 2012 (where 'the last mile' facilities would remain in the Company's grid), the electricity losses would be reduced by 0.10 p.p., down to 9.0%.
The Company is implementing a set of steps for optimizing (reducing) the electricity losses. In 2014, it modernised over 15 thous. accounting points, having spent RUB 223mln not including VAT. Remote data collection from over 16.4 thous. accounting points was organised.
The measures being implemented can be divided into three groups: organisational measures, technological measures and measures for improvement of electric energy billing and metering systems.
Savings through implementation of loss reduction measures in 2014, % from the supply to the grid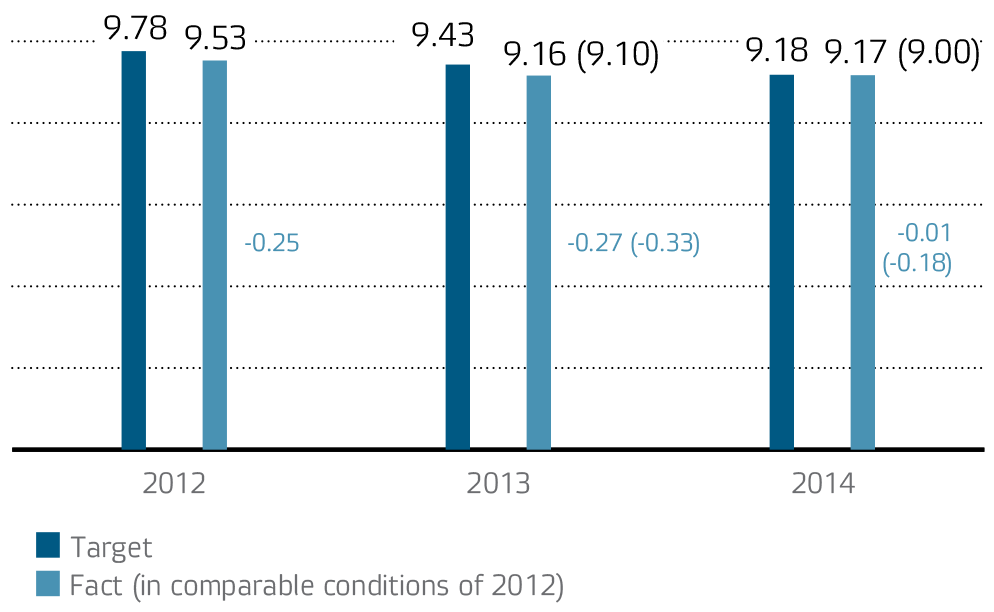 Measures for reduction of electric energy losses in 2014 and their effect

| Measures | Annual effect of loss reduction through measures fulfilled, kWh mln |
| --- | --- |
| 1. Organisational measures | 170.7 |
| Of which, key measures: | |
| Including non-metered consumption into net supply (utilities) | 70.2 |
| Payment of non-contractual consumption (grids) | 26.7 |
| Transformer shutdown during low load at substations with two or more transformers | 8.05 |
| 2. Technological measures | 12.7 |
| Of which, key measures: | |
| Replacement of overloaded transformers | 6.38 |
| Replacement of 0.4 feeders with self-supporting insulated wire | 1.25 |
| Replacement of wire with larger section at overloaded power lines | 2.5 |
| 3. Measures to improve electrical energy billing and metering | 13.2 |
Energy Conservation and Energy Efficiency Programme
In January 2014 the Company's Board of Directors approved The Energy Conservation and Energy Efficiency Programme for the period 2014–2019 (Minutes dated February 03, 2014 No. 01/14).
The Program of Energy Conversation and Increasing Energy Efficiency of IDGC of Centre
In 2014, the cost of implementing energy conservation measures and energy efficiency amounted to RUB 2.2bn. The Programme is financed through investment and maintenance programs of the Company.
Program implementation costs, RUB bn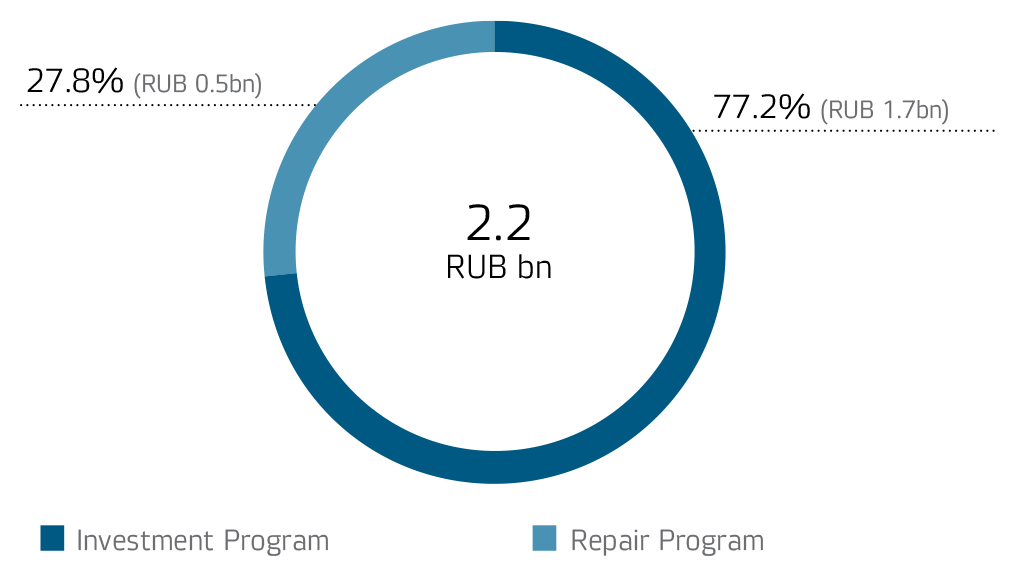 Detecting Illegal Electric Energy Consumption
Aimed at electric energy loss reduction, IDGC of Centre implements measures for detecting non-contractual and non-metered consumption. In 2014, these measures brought about the following results:
Results of activities to identify illegal energy consumption, performed in 2014
Non-contracted energy consumption
3 thous. acts were drawn up and paid in the amount of 26.7 kWh mln
Amount of recovery was 75.8 RUB mln
Non-metered energy consumption
9 thous. acts were drawn up in the amount of 84.3 kWh mln
Amount of recovery was 136.0 RUB mln
8.9 thous. acts in the amount of 70.2 kWh mln were included in the volume of services rendered
Total
211.8 RUB mln